ANGOLA - COBA GROUP ACTIVELY COMMITTED TO IMPROVING ROAD INFRASTRUCTURES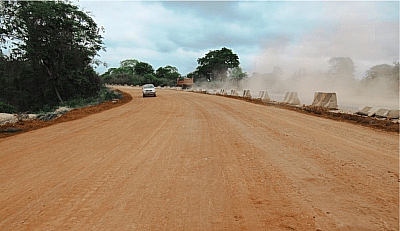 COBA Angola is providing for Angola's Ministry for Construction (Ministério da Construção de Angola) the supervision services within the scope of the Upgrading of (National Road) NR321 - section between Maria Teresa and Dondo. This is an intervention of utmost importance, as this is one of Angola's principal roads, being the main access road to the construction sites of the large hydropower projects currently underway in the Kwanza River. In addition it comprises a major outlet for agricultural goods produced in this region.
The construction works – undertaken by the Chinese company CTCE (China Tiesiju Civil Engineering Group) - amount to 335 million Kwanzas (€ 1.8 million) and have an envisaged duration of 14 months.
Another project of significant importance for the city of Luanda is the reformulation of the Samba Interchange with Avenue Pedro de Castro Van-Duném Loy. The COBA Group was responsible for the engineering design and construction works will be carried out by Tecnovia Angola for the Ministry of Construction.
The reformulation of this interchange, in addition to contributing towards the resolution of the problematic bottlenecks that daily affect thousands of citizens that circulate in Luanda, already envisages integration of the future Light Surface Rail Network, as one of the main measures of the Angolan executive to ease traffic congestion in the Angolan capital.
Lx, 30 Nov 2017