BRAZIL – REGULAR SAFETY INSPECTION AND ADAPTATION PROJECT OF THE "SIX" DAM, S. MATEUS DO SUL - CURITIBA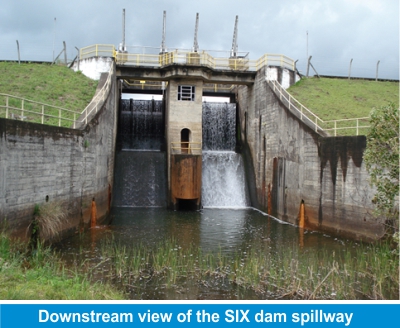 COBA BRAZIL is executing for Petrobras - Petróleo Brasileiro S.A. (Shale Industrialization Superintendence) the SIX Dam Adequacy Project, including a Regular Safety Inspection, as established in article 9th of the Federal Law no. 12334/2010 and Ordinance no. 20/2018 of the Paraná Water Institute.
The dam, located on the Canoas River, integrates the Irati Prototype Plant (UPI) complex and is part at the Shale Industrialization Operations Unit located in S. Mateus do Sul, 140 km from Curitiba, state of Paraná. The dam located on the Canoas River stores a volume of approximately 1,500,000 m3, which corresponds to the drainage of the 13 km2 river basin.
Brazil owns one of the largest world reserves of shale, whose main deposit is the formation of Irati, mainly located in the southern region of the country. The process - patented by Petrobras - consists of extracting the rock from the mine, forwarding it to a processing unit and heating it. The products (shale oil and shale gas) are cooled and collected.
The civil works of the dam were built in the period 1965/1967 with the aim of forming a reservoir, whose main purpose was to store and keep the shale pyrolysis residue wet. After a few years of use, it was decided no longer to operate the reservoir and the production process was altered. The dam is currently only used to control the Canoas River floods.
This is a homogeneous compacted earthfill dam, approximately 400 m long, 14 m high and 3.5 m wide crest, separated into two sections by a concrete structure, where the runoff, operation and control devices are located.
In addition to the Regular Inspection Report, the project includes the implementation of the minimum freeboard functionality and runoff capacity for the decamillenarian rainfall, through the construction of a concrete wall for dam heightening, and dam instrumentation project with water level meters.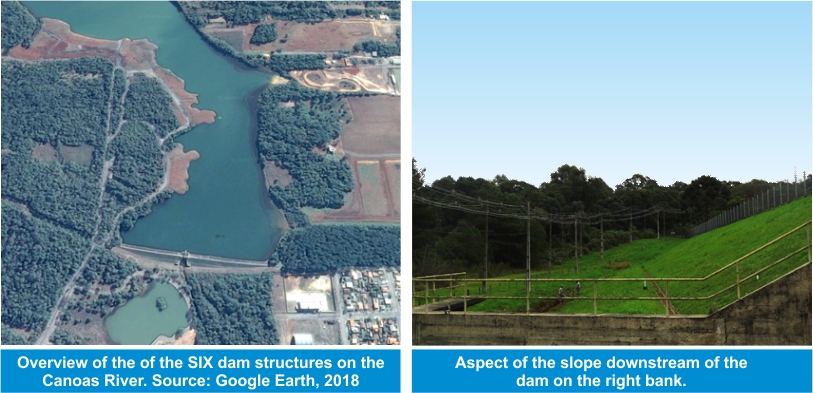 Lx, 27 Aug 2018