QUALITY MANAGEMENT SYSTEM
COBA's mission is to place engineering at the service of its Clients with a view to improving people's quality of life and the sustainable development of society.
Given its experience and the demanding nature of the activity of designers, particularly with regard to knowledge, technical capacity of execution, reliability and maintenance of quality standards, COBA has implemented a Quality Management System based on the NP EN ISO 9001 Standard, certified by APCER - Portuguese Association of Certification since December 2000, in the areas of "provision of consultancy services and preparation of studies and projects in the fields of engineering and environment, including prefeasibility studies, feasibility studies, base programs, preliminary studies, preliminary designs and final designs; works management and supervision, safety and health coordination and environmental control of all types of engineering and environmental works".
The implementation of a Quality System was always intended to guarantee, with the intervention of all the company's employees, not only efficient operation in the services provided, but also the full satisfaction of Customers, Employees, Partners, Suppliers, and other Interested Parties.
With regard to Works Management and Supervision, COBA has also held, since 1992, the General Quality Manager Status for Construction Projects ("Estatuto de Gestor Geral da Qualidade de Empreendimentos da Construção"), granted by the Quality Mark Commission of LNEC – National Laboratory of Civil Engineering, having obtained the highest classification in all existing categories (Hydraulic Works, Roads and Buildings and Monuments).
With the Certification of the Quality Management System and always aiming at the continuous improvement of the Organization, COBA subsequently implemented an Environmental Management System based on the NP EN ISO 14001 standard and a Safety and Health at Work Management System based on the OHSAS 18001 standard and, more recently, the NP EN ISO 45001 standard.
Therefore, COBA currently has in place an Integrated Quality, Environment and Occupational Health and Safety Management System, certified by APCER in 2022.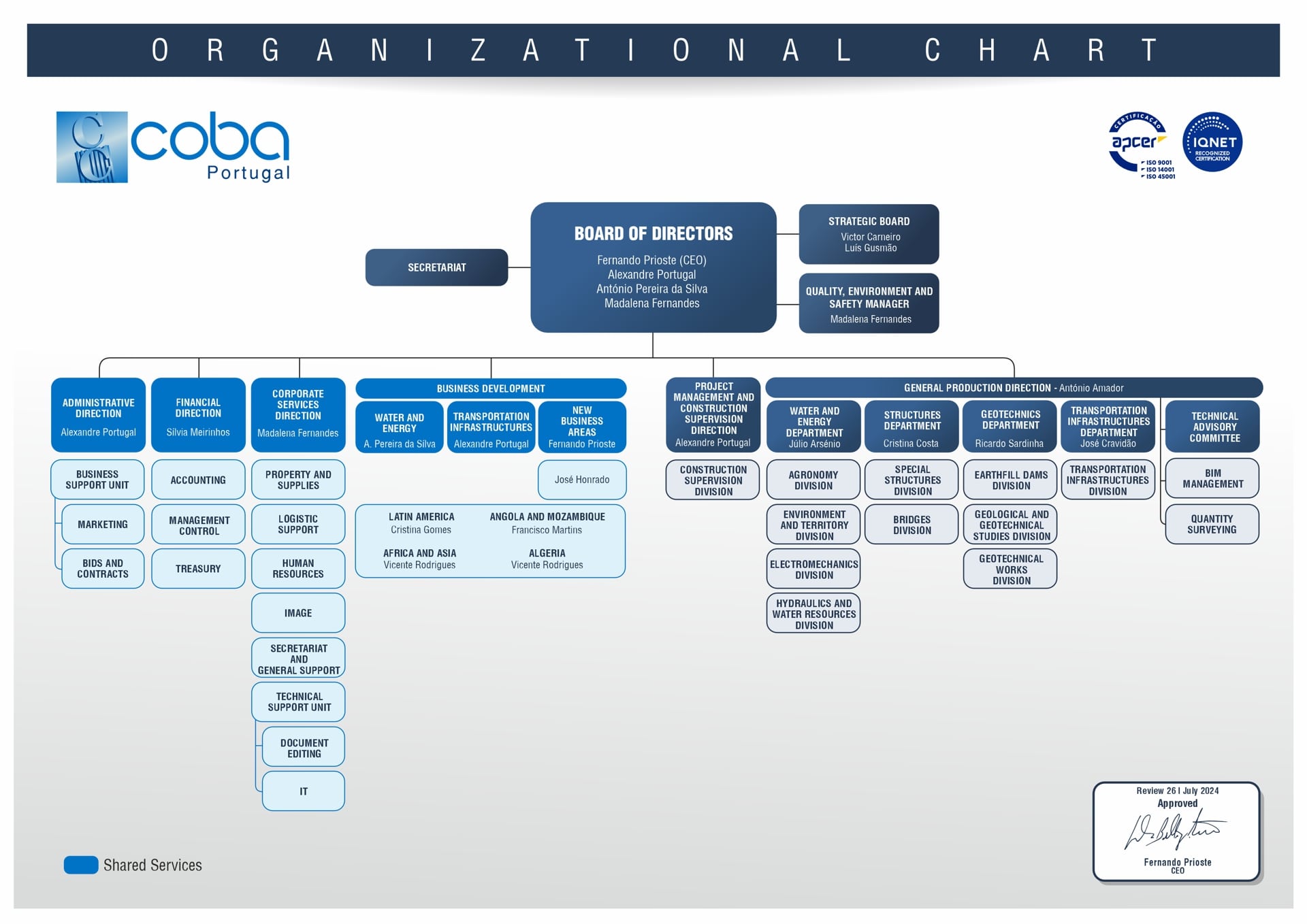 COBA - Consultores de Engenharia e Ambiente, S.A. has defined excellence of the services rendered to its clients as the main goal of all its activities.
To achieve this purpose, COBA's Board of Directors is committed to maintain and continuously improve its Quality Management System, establishing the following main objectives:
To promote the satisfaction of the needs and expectations of its clients, shareholders, employees and other relevant stakeholders, while respecting the highest professional and ethical standards.
To ensure the quality and continuous improvement of its services, through the implementation and maintenance of a Quality Management System aligned with the good practices set out in ISO 9001:2015, defining Quality objectives appropriate to the purpose and context of the organisation, and considering the risks and opportunities that may affect the quality of products and services provided by COBA.
To take into consideration social demands in general, complying with all applicable legal, regulatory and contractual requirements, as well as compliance obligations to which the company subscribes.
To increase the efficiency of its services through the progressive improvement of its productivity, developing the individual skills of its employees through the training necessary to carry out their functions.
To implement technologies, good work practices and rules of action that promote the optimization of actions, with a view to continuously improve performance.
To promote a strategy of expansion and sustained development of the company, based on the socio-professional development of its employees and the high social value of the services provided.
To achieve these objectives COBA relies, above all, on the competence, experience, loyalty and joint commitment of its employees, suppliers, and partners.
Rev. 04/May.2021
OCCUPATIONAL HEALTH AND SAFETY POLICY
COBA is fully aware that its Employees are the reason and the origin of its success. No other company resource is as important as the human resources who, with their work, their dedication & intelligence, contribute to our culture and to our results.
Protection of people is therefore a core value of the company. It is, as such, important to provide a safe and healthy environment for everyone involved in company life: employees, service providers, suppliers, and clients. COBA is committed through this policy to:
Establish, implement, and maintain an occupational health and safety management system in line with the good practices defined in ISO 45001 standard.
Ensure compliance with the applicable legal requirements and others subscribed in matters of safety and health at work.
Integrate Health and Safety into the company's activity, involving all employees and service providers.
Ensure a safe and healthy working environment ensuring the prevention of adverse health effects, safe conditions, and equipment as well as training that provides employees with the necessary knowledge to safely perform assigned tasks.
Setting challenging objectives and targets on Health and Safety matters, measuring, evaluating, and disseminating the results obtained and taking the necessary actions to pursue them.
Identify the hazards of all its activities and assess and manage risks.
Implement appropriate control measures to eliminate dangers and prevent risks, ensuring that the activity is carried out under safe and healthy conditions, continuously and permanently.
Train and inform employees of the risks inherent to their work and the measures to be adopted, making them aware of the need to comply with safety standards.
Emphasize individual responsibility and accountability for health and safety issues at all levels of the organisation.
Ensure the continuous improvement of the management system and the improvement of its performance in terms of health and safety, by designing and adopting safe processes, practices and work systems.
Communicate Health and Safety performance in a responsible and transparent way.
Ensure and encourage worker consultation and participation in Organisational Health and Safety matters.
Foresee and provide the necessary resources for the fulfilment of the OHS Policy.
Inform and disclose this Policy to Stakeholders.
To achieve these objectives COBA relies, above all, on the competence, experience, loyalty and joint commitment of its employees, suppliers, and partners.
Rev. 05/Jul.2022
COBA - Consultores de Engenharia e Ambiente, S.A. has defined excellence of the services provided to its clients as the main goal of all its activities, developing such services with the maximum respect for the Environment.
To achieve this purpose, COBA is committed to:
Implement and maintain an Environmental Management System in line with the ISO 14001 standard, with a view to continuous improvement.
Comply with applicable environmental legislation, as well as other obligations voluntarily assumed.
Adopt good environmental practices aimed at the rational use of natural resources and the prevention of environmental impacts, the protection of the environment and the prevention of pollution.
Set environmental objectives and targets and take the necessary actions to achieve them.
Continually raise awareness among employees for the improvement of individual and collective environmental performance.
Inform and disclose the present Policy to the interested parties (employees, suppliers, partners, clients, and community in general) transmitting COBA's commitment with respect to the Environment.
To achieve these objectives COBA relies, above all, on the competence, experience, loyalty and joint commitment of its employees, suppliers, and partners.
Rev. 05/Jul.2022